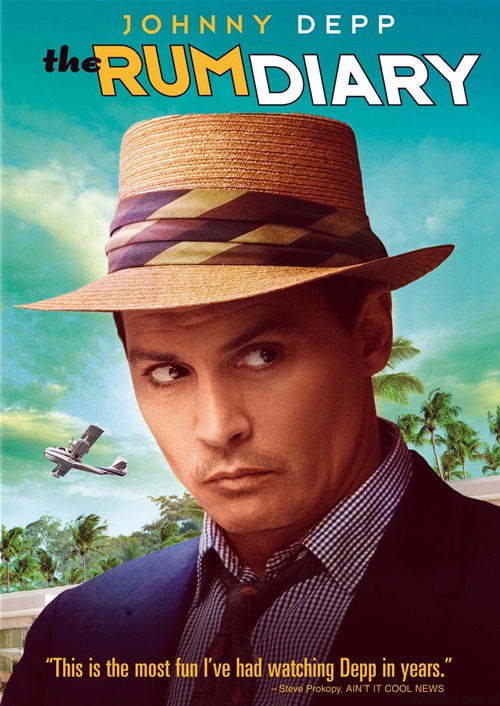 Set in 1960 Puerto Rico,
The Rum Diary
follows an alcoholic journalist (Johnny Depp) hired by a dying newspaper to write irrelevant pieces of fluff that tourists might want to read. He quickly notices the disparity between the rich and poor in the country, and though he wants to make a difference, finds himself hired to write for an exploitative developer. If this sounds like an extension of
Fear and Loathing in Las Vegas
, that's because the film is based on Hunter S. Thompson's first (and semi-autobiographical) novel.
ClearPlay In Action!
The R–rated
Rum Diary
boasts about 75 profanities, three scenes of intercourse and other scenes of sensuality. ClearPlay cuts all of these, as well as a humorous bumpy car ride that has sexual implications. Scenes of cockfighting are trimmed. Left in are countless scenes of drinking, smoking and some drug abuse (this is, after all, HST). Profanities in Spanish are also uncut, so take caution. The kids can take a pass on this one. I'm guessing, many ClearPlay users will be put off by the substance abuse.
Will The Rum Diary cause fear and loathing?…
I'm not sure if the movie is any better if you watch it plastered, but there's an overwhelming sense of squandered possibilities with the story that the fine acting can't save. Some parts even get predictable, something you wouldn't expect from a Thompson story. There are certainly interesting facets to
Rum Diary
, but the movie feels almost too episodic to be engaging, and it ends abruptly, as though they simply ran out of time. Or rum.
Marty Nabhan—ClearPlay Teetotaler
Rated R for language, brief drug use and sexuality; 120 min; Directed by Bruce Robinson