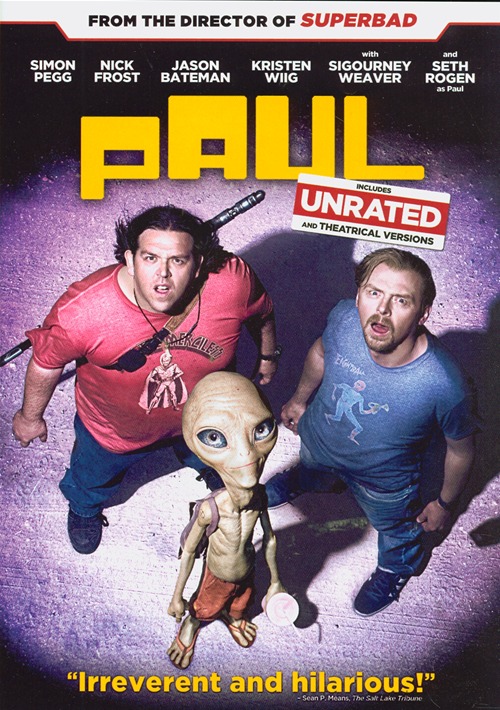 Imagine
Race to Witch Mountain
being funnier and a lot more crude and you have
Paul
, a sci-fi comedy about two British nerds (played by Simon Pegg and Nick Frost) who leave a comic-book convention en route to historic locations in the Southwest that have alien significance. Their plans get sidetracked when they run into real alien Paul (voiced by Seth Rogen) who has a penchant for foul language and fouler behavior. Paul enlists the Brits to help him escape the Feds, who are in hot pursuit, and a mysterious figure known only as The Big Guy.
ClearPlay In Action!
The comic concept of
Paul
is largely based on the idea, "What if an alien was just one of the bros?" Hence, there are multiple references to sex, drugs, body functions and anatomical oddities. ClearPlay cuts about 200 pieces of language, including more than 50 F-words. Also cut are some racy cartoons, crude pantomimes, and a drawing of an alien offering an obscene hand gesture. Though the movie offers strong messages about friendship, its general feeling of anarchy makes it questionable for younger viewers. The movie also sides against the existence of God.
Watching Paul, will I miss John, George and Ringo?…
You won't miss the Beatles at all because
Paul
by itself is loaded with pop culture references and homages to other alien movies. In fact, Paul the Alien takes credit for a lot of what we now accept as alien lore. Thanks to the likeability of Pegg and Frost,
Paul
is fully grounded, and is funnier than the trailers made it seem. Add Rogen's wisecracking voice to Paul, and you're ready for takeoff.
Marty Nabhan—ClearPlay Man–In–Black
Rated R for language including sexual references, and some drug use; 104 min | 109 min (extended cut); Directed By Greg Mottola