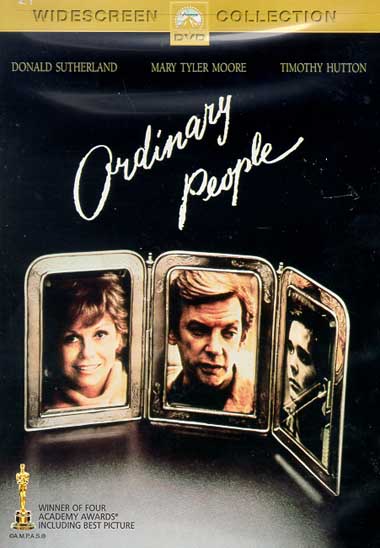 The Oscar winner for Best Picture of 1980,
Ordinary People
marks the directing debut of Robert Redford. Set in a suburb of Chicago, the movie follows the day–to–day activities of an upscale family stifling its feelings regarding an accidental death and a suicide attempt. The most troubled family member is Conrad (Oscar winner Timothy Hutton), the teenage son who is having difficulties dealing with survivor guilt after a boating accident claims the life of his brother. He begins seeing a psychiatrist (Judd Hirsch) who helps him try to get more control over his life, while the boy's parents (Donald Sutherland, Mary Tyler Moore) worry about his alienation.
ClearPlay In Action!
Ordinary People
received an R rating for a smattering of language that mainly surfaces in two scenes. Although ClearPlay cuts about 20 to 30 instances of language throughout the film, the intense subject matter will be more appropriate for older teens and above.
Why did Oscar voters find this movie so extraOrdinary?…
Like his character in
The Natural
, Redford figuratively steps to the plate and hits this one out of the ballpark. The movie rings true on all fronts, from the pitch–perfect acting to Alvin Sargent's insightful, Oscar–winning screenplay. The film moves deliberately as the back story is revealed a layer at a time, which may frustrate some viewers, but it's precisely this low–key, understated treatment that makes the movie work so well.
Marty Nabhan— ClearPlay Face in the Crowd
Rated R; 124 min; Directed By Robert Redford