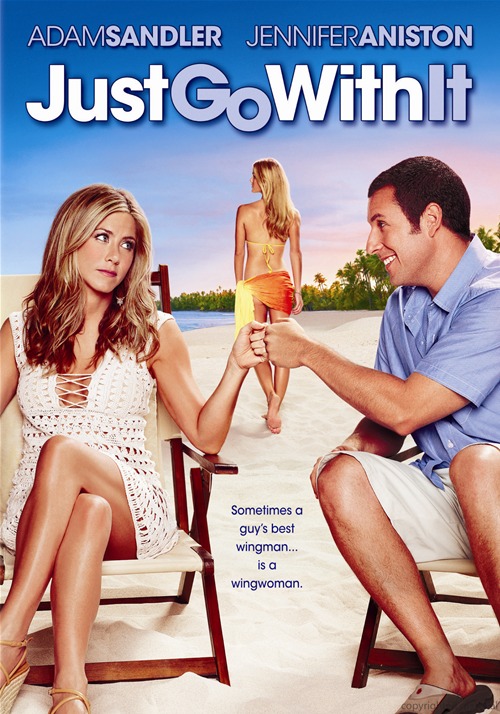 A plastic surgeon (Adam Sandler) finds that it's easier to score with women by pretending to be married, his ring serving as catnip for the prospective lover. When he falls for a girl (Brooklyn Decker) who's disgusted that he might be a cheater, he concocts increasingly more complex stories to be with her, using his lab assistant (Jennifer Aniston) and her kids to pose as his family to prove to his new love that his former "marriage" is over.
ClearPlay In Action!
As you might well imagine,
Just Go With It
is filled with crude humor, skimpy bathing suits, potty humor, and plenty of offensive moments. But when it's ClearPlayed and the excessive casual sex, condescending jokes and language (about 70 instances) are trimmed away, the movie's heart and message about the importance of honesty come out. This is one of those cases where ClearPlay doesn't just make the movie watchable – it makes it better.
The title sounds like a desperate plea to settle for less. Is it?…
The title actually comes from the idea behind improv comedy, which is to go with whatever outrageous premise raised by your partner. This oft-told story (based on the movie
Cactus Flower
, which was based on a play, which was based on, well, you get the idea) is certainly predictable, but there are a surprising number of sweet scenes and nice performances, enough to give the movie a mild recommendation.
Marty Nabhan— ClearPlay Ringbearer
Rated PG-13 for frequent crude and sexual content, partial nudity, brief drug references and language; 117 min; Directed By Dennis Dugan