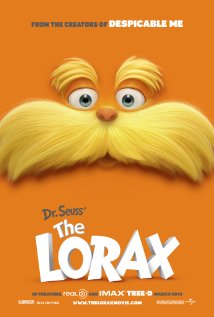 The Lorax, a furry, mustachioed mystical creature may be orange, but he's 100–percent green. Based on the Dr. Seuss book by the same name, The Lorax is an environmental parable about the dangers of corporate expansion at the expense of natural resources. In the totally synthetic town of Thneedville, Ted (voiced by Zac Efron) embarks on a journey to find a tree to win the affections of Audrey (Taylor Swift). He encounters the Once–ler (Ed Helms), who shares the cautionary tale of pillaging the terrain against the wishes of the Lorax (Danny DeVito).
ClearPlay In Action!
The family–oriented Lorax is rated PG for brief mild language. ClearPlay cuts some humor regarding bodily functions. Kids should enjoy the production values and funny surprises. Parents may appreciate the pro–environmental message.
Will The Lorax save the earth, or merely tell us what it's worth?…
While its story–telling doesn't feel much like Dr. Seuss, The Lorax has exciting action scenes, cool art design, and some nice musical numbers that don't take themselves too seriously. All in all, it's one of the more satisfying Seuss adaptations, and should please most members of the family.
Marty Nabhan— ClearPlay Tree–hugger
Rated PG for brief mild language; 86 min; Directed By Chris Renaud and Kyle Balda