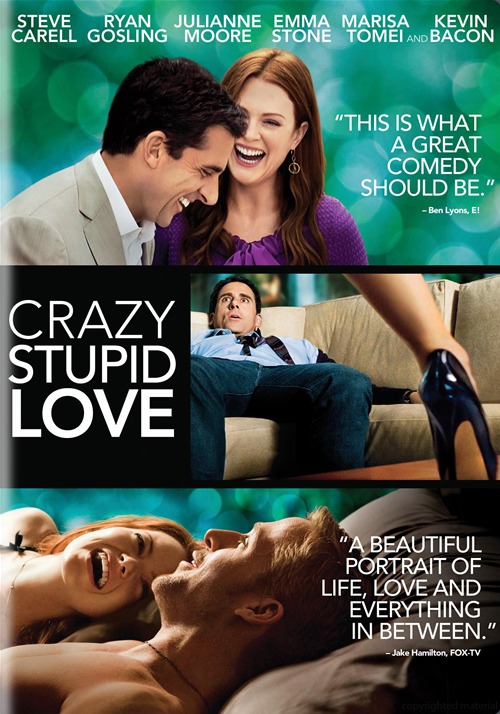 When Cal's wife (Julianne Moore) thinks she wants a divorce, Cal (Steve Carell) is devastated, drowning his sorrows at a bar. Enter ladies' man Jacob (Ryan Gosling), who instructs Cal on how to change his image and regain his manhood, with the promise that Cal's wife will regret the day she ever left him. Cal develops confidence, but it comes with a price that affects his wife, kids, friends, Jacob, a babysitter, and just about everyone else in this rollicking romantic comedy.
ClearPlay In Action!
Crazy, Stupid, Love
earns its PG–13 rating through profanity, crude behavior, and sexual situations. ClearPlay cuts about 80 instances of language, many of them religious exclamations and suggestive dialogue. Some scenes are cut altogether because of sex discussed or alluded to, including implied intercourse. A subplot of a girl taken nude photos of herself is also cut. Interestingly, the ClearPlayed version might lead you to believe that one character has fewer intimate relations than he actually does, as well as one sex act between two other characters we assume happened though it doesn't. Because of discussions of unfaithful spouses,
Crazy, Stupid, Love
is best suited for older teens and above.
Does Love conquer all?…
Carell's sincerity and Gosling's self–assuredness are perfect foils for each other, and there are a lot of laugh–out–loud situations as well as heartfelt moments. An improbable ending doesn't detract from its overall success. An appealing cast and very funny script make
Crazy, Stupid, Love
one of the best romantic comedies of the last five years.
Marty Nabhan—ClearPlay Casanova (oh, probably not)
Rated PG-13 for coarse humor, sexual content and language; 118 min; Directed by Glenn Ficarra and John Requa