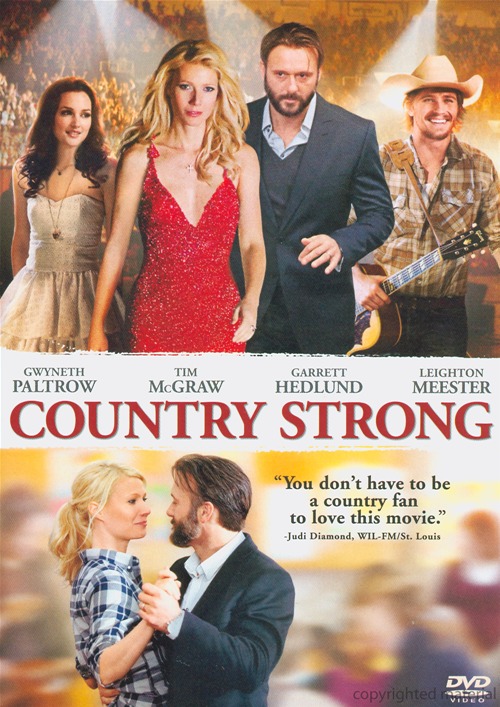 Sissy Spacek received a Best Actress Oscar for her portrayal of Loretta Lynn, a rags-to-riches country singer, in
Coal Miner's Daughter
. Robert Duvall got an Oscar as a washed–up country singer who cleans up his life in
Tender Mercies
, and Jeff Bridges did the same in
Crazy Heart
. Joaquin Phoenix almost accomplished it in
Walk the Line
. Unfortunately for Gwyneth Paltrow, it takes more than a movie cliché to receive honors. In
Country Strong
, Paltrow plays Kelly Canter, a recovering alcoholic country singer who leaves rehab early at the request of her husband (Tim McGraw) to embark on her "Encore" redemption tour. The tour comes just a year after a previous tour ended in disaster, and two other aspiring country singers (Leighton Meester and Garrett Hedlund) join the tour and help create an uncomfortable love quadrilateral.
ClearPlay In Action!
ClearPlay cuts about 60 instances of profanity, as well as at least three scenes of sensuality and/or implied intercourse. The movie is stilled filled with references to infidelity and substance abuse, and touches on topics of miscarriage and suicide, making it an improbable choice for younger members of the family.
Is Country Strong more 'Stand By Your Man' or 'Your Cheatin' Heart'?…
You know, it's funny that the poster for
Country Strong
features four determined characters walking victoriously toward you under the tagline "It doesn't matter where you've been as long as you come back strong." I'm thinking the marketing team didn't see the movie. The screenplay gets muddled with too many complications that don't fully pay off, all the characters seem to be opportunists, and despite several solid scenes and fine performances, the movie leaves you a little flat.
Marty Nabhan— ClearPlay Fiddler
Rated PG-13 for thematic elements involving alcohol abuse and some sexual content.; 117 min; Directed by Shana Feste