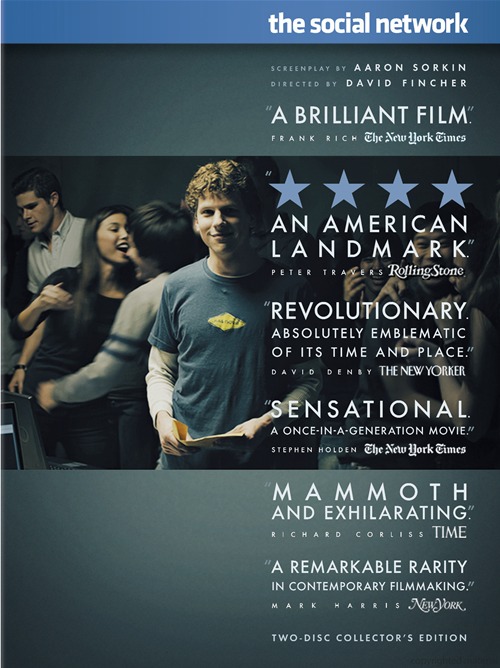 David Fincher's
The Social Network
was on about 350 Top Ten lists for 2010, and deservedly so. The screenplay is smart, the dialogue witty, and the performances are spot-on. Jesse Eisenberg plays the lead role as Mark Zuckerberg, a somewhat unsympathetic nerd on probation at Harvard who creates the online social network Facebook and hits the jackpot. That's the short version. But the movie delves into his character as well as the controversy surrounding the founding of Facebook and who really came up with the lucrative idea.
ClearPlay In Action!
The Social Network
originally earned a PG-13 rating from the MPAA for sexual content, drug and alcohol use and language. Frat-house shenanigans (such as girls kissing girls), immodest dancing, and drug use is shown, and some implied intercourse and oral sex are alluded to. ClearPlay edits these scenes, and also removes about 70 instances of profanity, including crude references and hand gestures. It's hard to estimate how many kids will be interested in a story that revolves around intellectual properties. But ClearPlayed,
The Social Network
is an insightful examination of ego, power, and invention appropriate for teens and above.
Should I plug into this Network?…
Whether based on fact or a whole lot of fiction,
The Social Network
is an engaging movie with memorable characters and a star-making performance by Eisenberg. A strong supporting cast (featuring Justin Timberlake) helps make the film a strong recommendation.
Marty Nabhan— ClearPlay Socialite
Rated PG-13 for sexual content, drug and alcohol use and language.; 120 min;Directed By David Fincher