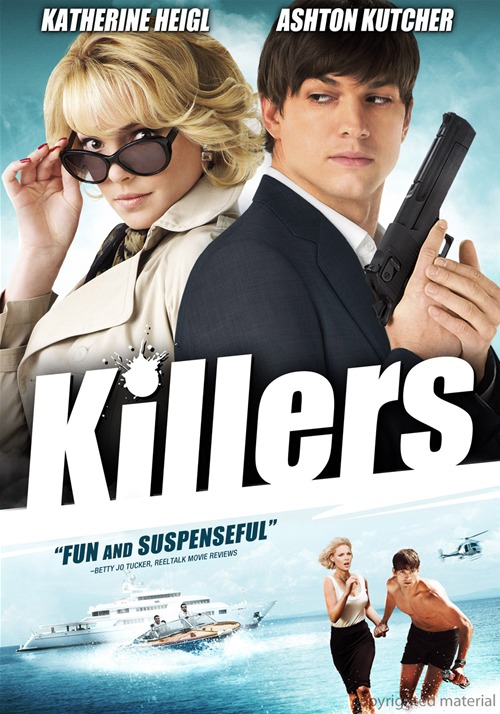 Assassin Spencer Aimes (Ashton Kutcher) is on a mission in France when he meets ordinary girl Jen Kornfeldt (Katherine Heigl). They fall in love and he walks away from his past to marry her and start a normal life in the suburbs. But some jobs you just can't walk away from. When Spencer's past comes calling, killers and secrets come out of the woodwork and the bullets fly, threatening a life of marital bliss.
ClearPlay In Action!
ClearPlay's primary targets are sensuality, language, and violence. With filters in place, the movie would be appropriate for teens. With a couple exceptions, most of the violence has a comedic edge and consists of fisticuffs and a lot of bullets flying around and not hitting much. There is an F word and a smattering of other obscenities removed that you won't miss in the least.
Is the Movie A Killer?…
Killers
is pretty ambitious, trying to be a romance, comedy, and action flick all rolled into one. It is mediocre on all counts and suffers from a plot that gradually gets more ludicrous. That isn't to say that there isn't some entertainment to be had, and the action aspect of the film does make it a tad more entertaining than the average cookie-cutter romcom.
Brian Fuller— ClearPlay Assassin
Rated PG-13 for violent action, sexual material and language.; 93 min; Directed By Robert Luketic