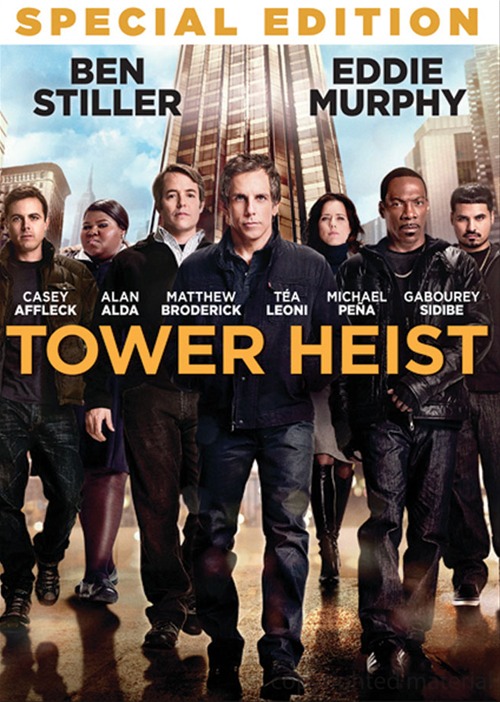 Building manager Josh Kovacs (Ben Stiller) is indispensible in keeping the Tower's residents happy. But Josh soon finds that one of the high–rise's most wealthy occupants, Arthur Shaw (Alan Alda), has been indicted for fraud, taking Josh and his staff's retirement money with him. When Josh is fired for a tirade against Shaw, he decides to get the money back, planning to break into the Tower and find Shaw's hidden stash.
ClearPlay In Action!
Though much of the profanity in
Tower Heist
is mild, there's a lot of it, and it's refreshing to not have to hear the approximately 130 instances of it in the ClearPlayed version. Gone also are crude discussions of sex and women. The ClearPlayed version is appropriate for all audiences if you don't mind a little breaking of the law (and by "a little," I mean first degree felony).
Does Heist tower above other caper films?…
Tower Heist
is not the most intelligent caper film, and it certainly isn't the most complex. But the cast is almost universally likable, including Eddie Murphy, Matthew Broderick, Tea Leoni, Michael Pena, Gabourey Sidibe, and the wildly underrated Casey Affleck.
Tower Heist
is fun, often funny, and amiable enough to be a solid rental.
Marty Nabhan—ClearPlay Safecracker
Rated PG-13 for language and sexual content; 104 min; Directed by Brett Ratner