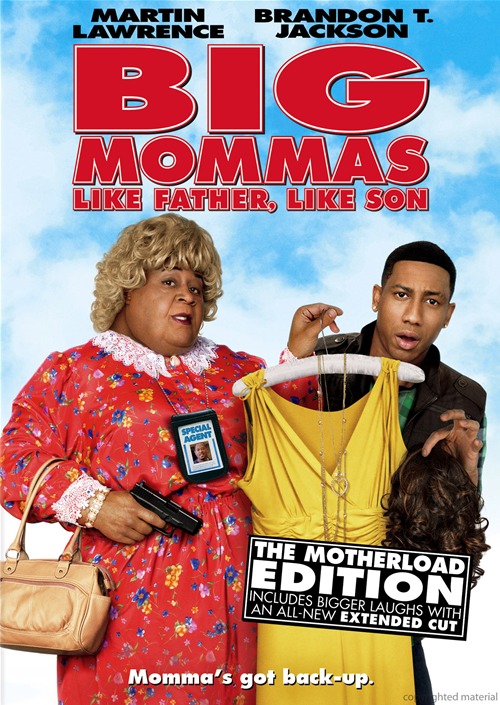 Martin Lawrence reprises his role as Malcom Turner, an FBI Agent who cross dresses as a plump, grandmotherly woman to help him solve crimes. In this third installment, Malcom's musical stepson, Trent, witnesses a murder. To protect him and to solve the crime, Malcom and Trent dress up as plus–sized women and hide out in (you guessed it!) an all girls school for the arts.
ClearPlay In Action!
Language, sexual comments, and some immodesty are ClearPlay's work here. With filters in place, this movie would be appropriate for one celled organisms or those who enjoy diets rich in corn and cheese.
Is this a Big Momma–Sized Success?…
I didn't see the first two Big Momma installments, but if any tread did exist on the tires of this movie concept, it has worn down to the rims on this one. If you haven't groaned in misery for a while, don't have anything to scrape off the bottom of your shoes, or are a die–hard Martin Lawrence fan, check it out. Otherwise, try a couple of old classics with similar themes available on ClearPlay. The Chevy Chase comedy
Fletch
features a ridiculous investigative reporter who is also a master of disguise. If you like the idea of a cop going undercover at a school, try
Kindergarten Cop
with Arnold Schwarzenneger.
Brian Fuller— Average–Sized ClearPlay Reviewer
Rated PG-13 for some sexual humor and brief violence; 107 min; Directed By John Whitesell