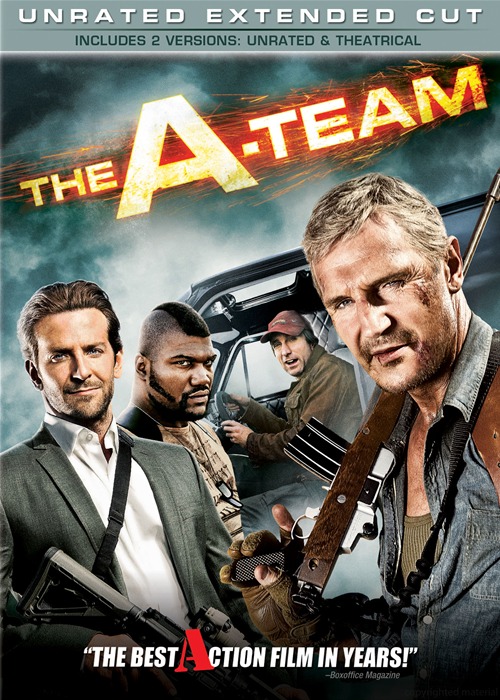 Fans of the 1980s TV show "The A–Team" should be largely pleased with this updated telling Colonel Hannibal Smith (Liam Neeson) and his band of crazy U.S. Rangers. The movie lays out the entire mythology of the characters, from how they met to how they were framed and how they ultimately are allowed to try and clear their names.
ClearPlay In Action!
Cruder, louder and bigger than the TV series,
The A–Team
received its PG–13 rating for "intense sequences of action and violence throughout, language and smoking. ClearPlay takes out some innuendo and allusions to lovemaking, as well as a little more than 100 instances of profanity, about half of them mild. But
The A–Team
is about violent action, and though ClearPlay cleans up the most violent scenes, you'll still probably want to limit viewing to audience members who can handle it.
What grade should this Team receive?…
When it comes to appealing casts and fun, elaborate action, it's hard to beat
The A–Team.
The cast, fleshed out by Bradley Cooper, Jessica Biel, Quinton "Rampage" Jackson, Sharlto Copley and Gerald McRaney, is light, freewheeling and perfect for this type of movie. It's like watching
The Expendables
and
The Losers
if those movies had been given twice the budget and half the believability. All in all, I pity the fool who doesn't enjoy
The A–Team.
Marty Nabhan— ClearPlay Lover of Plans that Come Together
Rated PG-13 for intense sequences of action and violence throughout, language and smoking.; 117 min | 136 min (extended cut);Directed By Joe Carnahan